This week, as I was digging through my endless supply of email, I read the Just Be Enough weekly newsletter. I enjoy the newsletter because it gives me insight to the people who are part of the Just Be Enough project and because in the newsletter is the prompt for the Monday Just Be Enough post link up.
I like for those ideas to percolate in my brain for a day or so, then I sit down to craft my thoughts.
Just Be Enough is meant to help each of us determine that we are enough. With our faults, our limitations, our struggles…just by being ourselves, we are enough.
So, when the newsletter came out last week, I read the prompt:
How do you live like a champion?
Or…How could you?
And my mind said, "Oh, I'm not a champion…and to be a champion, I'd have to follow through on all my plans, which you know I never do…so I am not a champion. End of story. Guess I won't post this week."
End of story, right?
Wrong.
I popped over to JBE this morning to see what others had written about being a champion. I figured that even if I wasn't one, I could still support and encourage those who were.
And I read Elena's post: My Inner Champion. (Go ahead, read it…I'll wait)
Her words touched a soft spot in my heart. Elena's voice in my head nudged me to look a little harder for something that shows my champion spirit.  The words were a whisper, in a voice I imagine to be hers, and it said, "You are a champion. Dig deeper. Look in the corners of your soul — it's there, I promise because you are enough."
And if I'm not a marathon runner.
Or a cancer survivor.
Or a Nobel Prize winning scientist, then I have to adjust my idea of champion.
So, an hour of soul searching (and dishwasher unloading and laundry folding) later, I had my answer.
My ex-husband used to tell me that he never understood how I could get up the day after we'd battled one of our many issues and manage to have a relatively positive day.
Sure, I could have let myself fall to pieces. And there were a couple of times I did, but for the most part, I pulled myself up, steeled myself for the day, and just did it. And I looked to the future — with optimism and hope.
It's called resilience.
And that's what I'm the champion of.
I can bounce back.
I can rebound.
I can begin again.
Over. And. Over.
Readers of RubberChickenMadness have heard me mention this quote before:
Action is the antidote to despair.

~ Joan Baez
It's my mantra.
And through it, I am enough.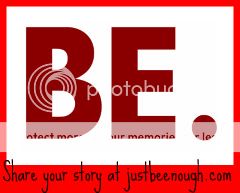 If you ever find that you are being extra critical of yourself, please take a moment to visit the beautiful writers over at Just Be Enough. Their positive message, kind words, and gentle encouragement to be enough have changed my life in such a positive way. 
I know they can do the same for you.